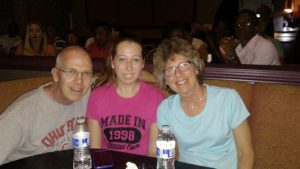 Bob's Healing Journey With chronic pain
(Two words I despise!)
It's such a humbling, hurtful and oftentimes "limiting" phrase. I've had lower back pain since leaving the Marine Corps at the age of 23. It has kept me from doing many activities I enjoy. It brought on that doubtful inner voice of fear whispering, "Are you sure you should do this?" I was pissed at that inner voice because it had an imprisoning hold on me. I'm guessing you might have felt this way at some point.
At various times my pain was so debilitating I had to crawl to the bathroom (humbling), not physically able to attend many performances to support my daughter (hurtful). To top it off, I felt inadequate because of my fear and frequent inability to participate in life. Like many people with chronic pain or disease, I followed the "rigid" insurance covered, conventional approach. In fact, I imposed my strong belief in allopathic medicine on Sandy when she was injured and for years persuaded her to follow this path which only led to increased injury and dysfunction.
i expected Allopathic medicine to heal My Chronic Pain
(boy, was I wrong!)
Fortunately, I had the endless love and support of my beautiful wife who has been on a quest for lifelong learning & healing. She helped me notice that the tests, injections and pills weren't doing anything to solve my pain issues, and in fact were barely masking them. The law of diminishing returns had set in. Sandy's healing progress convinced me when I saw her go downhill for years using conventional methods and then begin to blossom and ultimately flourish when she turned to alternative and functional medicine whole body approaches. This encouraged me to discard my rigid beliefs and expand my healing horizons to end my suffering from chronic pain.
Now I'm using a "multifaceted individualized approach" because it's been so effective for Sandy. Together we searched to find people who would guide and support healing my chronic pain. I take small steps and sometimes unknowingly overdo things and deal with setbacks here and there, but every day I'm learning by tuning in to my body and what I need to feel better. I no longer expect to wake up one morning and have everything be "perfect." I now understand that health is a journey in progress. We are all doing our best to create a healthier mind and body and a happier life.